Innovative Practices
Download Enerjisa Mobile application from App Store, Google Play or App Gallery and proceed with the procedure you want to carry out.
You can complete your subscription procedures and payments, access your billing information, apply for your requests and get information on the instantaneous/scheduled outages by a few clicks.
Access any information regarding your account and tariff, and carry out your Subscription and Cancellation processes easily,
Review your previous electricity consumptions on charts, and even compare your consumption figures with the users in your area,
Pay your bills or find out the nearest payment point,
Make online appointments for Enerjisa Service Points,
Check the tips for energy conservation under the 'Positive World of Enerjisa' tab,
Follow the instantaneous and scheduled outages in your area.
Please remember that you shall complete online membership processes to be able to benefit from all features.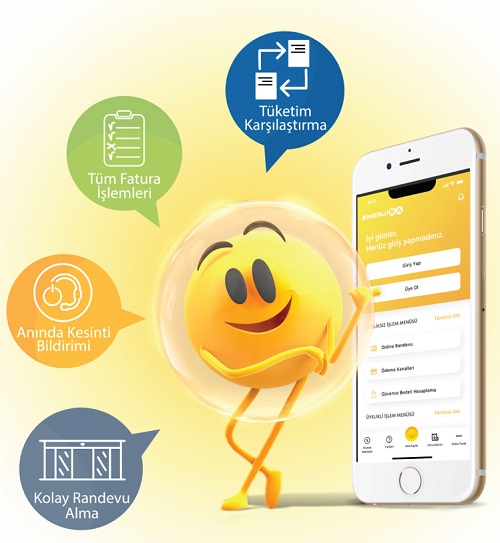 The operation system of your smart phone shall be at least iOS 13 or Android 7.0 to be able to download the app.
Enerjisa Enerji A.Ş. Reserves the right to change the services and promotions offered by Enerjisa Mobile.
I Protect My Energy
We are aware that the times spent with children are priceless. We designed 'I Protect My Energy' mobile game to conserve energy even during these precious moments and included some fun facts with a character named Pozitip.
The game allows the children to build their own cities, make their homes energy efficient, complete the in-game tasks with the given energy protection tips and protect their energy.
Download the game, share it with children and help them learn more about energy protection.
186 Mobile Application
Available for mobile devices with iOS and Android operation systems, 186 Mobile application, a first in Turkey in its field, allows the users in 14 provinces within Başkent, Ayedaş and Toroslar electricity distribution regions easily report about any breakdowns, get further information on the scheduled outages in your area and inquire with your application number.

Furthermore, you can apply for activation-deactivation processes, enter indexes, report malfunctioning regarding your meter and follow up the latest information regarding your applications.

Developed by Enerjisa IT department and available for the users in Istanbul Anatolian Side, Ankara, Bartın, Kastamonu, Karabük, Zonguldak, Çankırı, Kırıkkale, Adana, Gaziantep, Mersin, Hatay, Kilis and Osmaniye provinces, the mobile application features the following properties;
Time Schedule & Notification Area
You can access information on scheduled outages in your area or related to your installation, easily apply for any requests and follow up the latest status of your applications.

Detailed Scheduled Outage Information in a List or on a Map
You can follow up the scheduled outages in your area or related to your installation in a list or on a map, add these scheduled outages to your calendar to get a reminder.

Application Inquiry
You can inquire your applications from any of the channels easily via 186 Mobile and follow up their latest statuses.

Announcements
You can follow up exclusive offers and the latest news regarding us from this menu.

Meter Procedures
You can report malfunctioning regarding your meter and get information in advance regarding your applications.

Index Procedures
You can report your index requests and enter index values.

Deactivation & Reactivation Procedures
You can follow up the latest energy status of your installation and carry out your deactivation and reactivation procedures.

Widget Notification Feature
You can check if there are any scheduled outages for your installation or any address you specify with widget notifications without opening the application.

Profile Procedures
You can follow up further details on your registered installation from the area.

Frequently Asked Questions
Frequently asked questions on "New Connection", "Customer Relations", "Index Reading", "Meter Operations", "Breakdown", "Fault", "Deactivation/Reactivation" can be accessed from this section.

New Connection & Authorised Electrician Procedures
If you are an authorised electrician, you can inquire the latest status of your projects, monitor outstanding documents and get appointment for your projects without visiting the operation centre
| | |
| --- | --- |
| | |
Volti – Chatbot Application
While we continue to increase the number of application channels, we also digitalise our processes to be able to provide you a better and accessible service.

Put into operation in March 2020, VOLTI Chatbot application enables us to swiftly be informed about the requests that you convey through the chatbot application on our websites. AI-based VOLTI provides service for queries through the websites of our distribution companies regarding scheduled outages and instant outages, electricity shut-off notifications and application inquiries. Thanks to VOLTI Chatbot application, you can swiftly and easily complete your requests.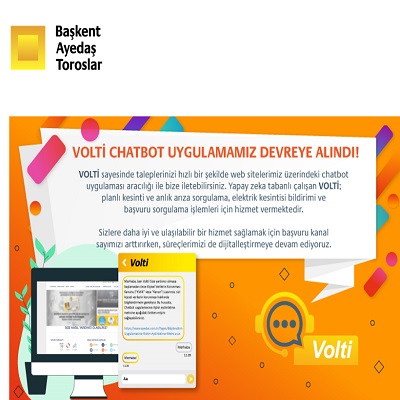 WhatsApp Customer Hotline

Thanks to our WhatsApp customer hotline, exclusive teams built within our call centres will monitor your requests and provide service to our customers 24/7.

You will be able to start conversation on our new digital application channel, which was designed by taking into account the Personal Data Protection Law throughout the entire communication period, once you give your consent to the disclosure text.

We are providing service 24/7 through our WhatsApp hotline on 0216 186 0000 for Ayedaş region, on 0312 186 0000 for Başkent distribution region, and 0322 186 00 for Toroslar distribution region. Furthermore, you can click on the following links to directly initiate conversation regarding your requests;

Please click here to be directed to Başkent WhatsApp hotline.
Please click here to be directed to Ayedaş WhatsApp hotline.
Please click here to be directed to Toroslar WhatsApp hotline.

Thanks to our WhatsApp hotline, we have the purpose to increase the rate of our activities regarding digitalisation more, and continue our efforts to maximise customer experience.