Occupational Health and Safety
We aim to become one of the leading companies in the energy sector, both in Turkey and globally. We see Occupational Health and Safety as the top priority and manage it according to the international standards.

Transfer of the electricity to end users through the distribution businesses poses high Occupational Health and Safety (OHS) risks. For this reason,dissemination of the Occupational Health and Safety culture across all business partners, especially employees is the main priority of us. We continue to invest in OHS.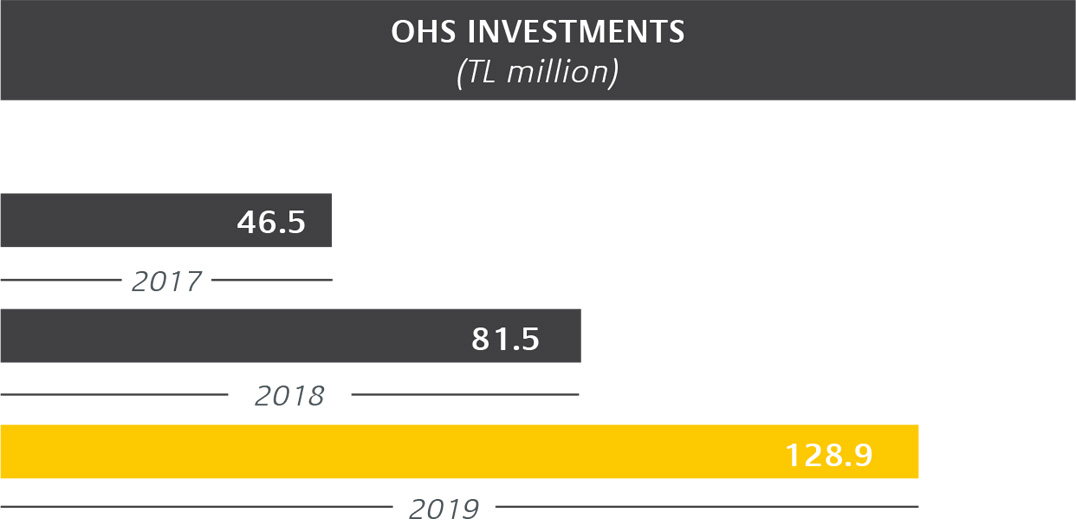 WOHS is embraced by the Executive Management to manage risks related to our Company and contractors proactively. The Occupational Health and Safety Manager of the distribution business reports to the Head of the Distribution Business Unit, who reports to the CEO and is responsible for the three distribution regions
We manage OHS in line with ISO 45001:2018 Occupational Health and Safety Management System. In addition, we employ the Fine-Kinney method with the participation of employees, occupational safety specialists and an in-house physician and we divide risks into very high, high, important, possible and low categories. We set monthly and annual targets to increase OHS culture.

It is important to spread the culture of Occupational Health and Safety to all business partners, particularly employees. We organize events to raise OHS awareness in every region in which we operate during the OHS Week, from May 4 to 10.

Please click to read our Occupational Health and Safety Policy.

OHS TRAININGS
We approach occupational health and safety from the risk perspective. Our employees must first be qualified in this field to apply our high standards and manage risks in these areas. Training sessions in which employees are informed about safe working conditions play an important role in OHS management and help develop employees' occupational skills.



In 2019, 40.25% of all training sessions were about OHS and employees received OHS training of 16 hours on average. We also corrected the duplicate training records thanks to the improvements made to the training follow-up system. Although the rate of average OHS training hours per employee appears to decrease, we have created a more efficient training plan with new categories. This explains the decrease in average OHS training hours per employee in 2018. The decrease in 2019 was due to the reclassification of the Three-Day OHS Training for White-Collar Staff: Working at Heights, as technical training.

In addition to the requirements of the OHS legislation, we undertook training and other activities on the following topics in 2019 to increase the awareness of employees about occupational health and safety and to support their ownership of the issue:


Accident Investigation Training: It is important to find the root causes of accidents and to take the necessary precautions to prevent recurrences. In this context, we provided our employees who took part in the investigation of incidents and accidents with Investigation of the Accident by Reenactment and Root Cause Analysis training. These serve to improve the efficiency of the incident investigation process.
Traffic Campaign: Enerjisa Enerji's routine operational activities require many employees to drive. Therefore, we launched a traffic communication campaign to ensure that such employees are protected from any potential collisions and to increase their personal awareness of the traffic rules. Banners and videos prepared with the basic headings of speed limit compliance, seat-belt usage and the prohibited
use of mobile phones while driving deliver the key campaign messages.
ISO 45001:2018 Information on Occupational Health and Safety Management Systems, Implementation Changes and Internal Auditor Training: We organized a training seminar that focused on the contents of ISO 45001:2018 standard, the implementation changes brought
By the new standard and the differences with OHSAS 18001:2007 and gap analysis. Following these training, 115 employees from each unit of the Başkent, AYEDAŞ and Toroslar EDAŞ were certified as internal auditors for ISO 45001:2018.
Environmental Management System Trainings: We provided training on waste management and chemical management within the implementation of the ISO 14001:2015 Environmental Management System principles.
In addition to those training programs, as part of Compass Professional Development program, the Human Resources Technical Training team has delivered Safe Work on the Field trainings for the field employees of Grid Operations. Approximately 500 field employees participated in the trainings.
IMPROVEMENT
Improvement efforts to prevent occupational accidents are imperative to foster a safe working environment. As such, we focus on the root causes of incidents by investigating fatal accidents and injuries and launch innovative initiatives and practices that employ technology to prevent accidents across the company, particularly in the riskiest processes. These initiatives and practices include:
Online Streaming and Video Confirmation
Activities such as high-voltage energy control, maneuvering and working at heights pose a great risk. We employed video push-to-talk devices to ensure that employees engaged in these activities and work in such environments use the necessary personal protective equipment. Through this project, we also monitor safe work practices. In this way, the activity can only begin once permission from an authorized official other than the field team is attained. We aim to prevent potential accidents by increasing the surveillance using the Video Verification System. With this system, the number of critical accidents declined by 40% in 2019 y.o.y.
Technical Analysis of Local Grounding Practices in Distribution Grids
Within the scope of the Grounding Analysis Project, we made analyses with various topology, operations and an installed subscriber generator capacity
and evaluated whether the existing and newly designed grounding equipment is suitable for Occupational Health and Safety. Following the analyses, newly designed grounding equipment has commenced operation. In this way, we have cut down equipment weight and equipment costs and provided
operational efficiency in its maintenance/ repair activities, creating a safe work environment for operators.
Hydraulic Overhead Line Cutting from Ground Tool
We began using Long-Handled Cable Cutters to eliminate the inherent hazards and risks of working at heights. We therefore changed our work methods and eliminated the risks associated with climbing a pole to complete a job. Consequently, accidents and injuries caused by pole falling from heights while secured to a tree and pole fractures have decreased significantly.
High Voltage Detector Tester
We offer our employees the opportunity to perform a full function test with the high-voltage detector tester, which was specially designed for our Company. The high-voltage detector tester identifies electronic problems in a high-voltage detector, which may arise from climate or storage conditions and such, prior to work. The high-voltage detector tester assures employees of the accuracy of the high-voltage detector and helps prevent accidents that can arise from defective detectors.
Model - based Critical Behavior Analysis and Change Project
We completed the Critical BehaviorAnalysis Project, which launched in 2018, in coordination with the faculty members of the Department of Psychology at the Middle East Technical University (METU) and published the final report. We are currently developing a roadmap to increase the safety culture within the framework of this report.
OHS PERFORMANCE INDICATORS
At Enerjisa Enerji, we consider fatal accidents completely unacceptable and care for the health of our employees and contractors. We thoroughly investigate the causes of all accidents, including fatal accidents caused by our Company and/or contractors. We conduct comprehensive risk analyses regarding OHS and identify and implement actions to eliminate these risks.
In our Company, we regularly monitor the impact of all OHSrelated investments and initiatives based on particular indicators. We conduct risk analyses on issues such as the Occupational Health and Safety risks of contractors in the construction business, seismic compliance of buildings acquired from public, the construction standards of recently leased buildings and compliance with OHS rules of pilot and installation works requiring equipment.
Thanks to our investments and efforts in OHS, we managed to significantly decrease the Rate of Critical Accidents. The number of critical accidents was 29, signifying a 42% decrease compared to 2018.
Thanks to our measures, Total Recordable Incident Frequency Rate Excluding Slip, Trip and Fall Accidents (TRIF w/o STF) was down to 5, signifying a 23% decrease compared to 2018.
Total Recordable Incident Frequency Rate (TRIF): Total recordable incident frequency rate improved by 18% and was recorded at 8.2.
Lost Time Injury Severity Rate (LTISR) decreased to 58.8, signifying a 31% decrease.
We shoulder the responsibility of developing a responsible behavioral OHS culture among our business partners and contractors. In this context, we conduct one-on-one visits to the contractors and request their Security Development Plans. In 2020, we aim to carry out further inspections of the contractors within the scope of OHS.