Talent Management
To shape the new energy world and lead the sector, we needtalented and equipped human resources that meet our current and future needs. We work with the most equipped individuals in the sector thanks to our vision of being the most desirable employer. To ensure our employees realize their full potential, we offer development opportunities and an equal, inclusive and safe work environment where they feel valued.
We view talent management as a way to create value by granting all employees the opportunity to discover, understand and appreciate themselves and to use their skills in the most accurate and efficient way. We support our employees to develop the talents and skills required by their positions and train them to increase their professional capacity in line with our "right person for the right job" approach. As well as contributing to employee development, we play an important role in bringing qualified labor to the industry.
Trusting that every employee is a talent, we follow global trends for diverse employee profiles in many different areas and introduce new approaches to support their priorities. In this context, we use talent management systems to determine and evaluate employee performance and competence. We develop short-term and medium-term succession plans for all critical positions to ensure the sustainability of talents. We support continuous development with leadership, personal and professional development programs that are tailored for the needs of our employees.
WORKING AT ENERJISA
At Enerjisa, employee satisfaction is of utmost importance. To attract and retain talent, we strive to improve working conditions and become the most desirable employer. As always, in 2019 we continued to offer our employees a meaningful and fair work environment that cultivates a positive organizational climate, communication and culture, to help them become the best in their respective areas in the energy sector and utilize their full potential in their career journey. We provided employment to 10,240 people in 2019. Blue-collar workers represent 68% of our total workforce.



We also take advantage of technological tools and digitalization in our human resources practices to improve and accelerate working processes and lean on data driven decisions. Our Digital Human Resources Platform, IKON, ensures that our employees working in different regions are informed at the same time about all company updates, reach HR & self service applications via their mobiles and share their feedbacks via instant, quick and user friendly surveys.

At Enerjisa, we care about our employees to have work-life balance and choices on their working conditions. In 2019, as the initial actions of our flexible approach, we started flexible working model including flexible working hours, flexible dress code and remote working in all headquarters. Through the Employee Support Program, we ensure that employees and their families receive counseling on psychological, medical, financial and legal topics.
In order to provide best working conditions to our employees, we measure employee satisfaction through surveys. We took several actions to improve our last year's employee satisfaction score which was 71%. In 2019, the employee turnover rate was 3.1%. Our employee turnover rate has improved by 30% in the last hree years.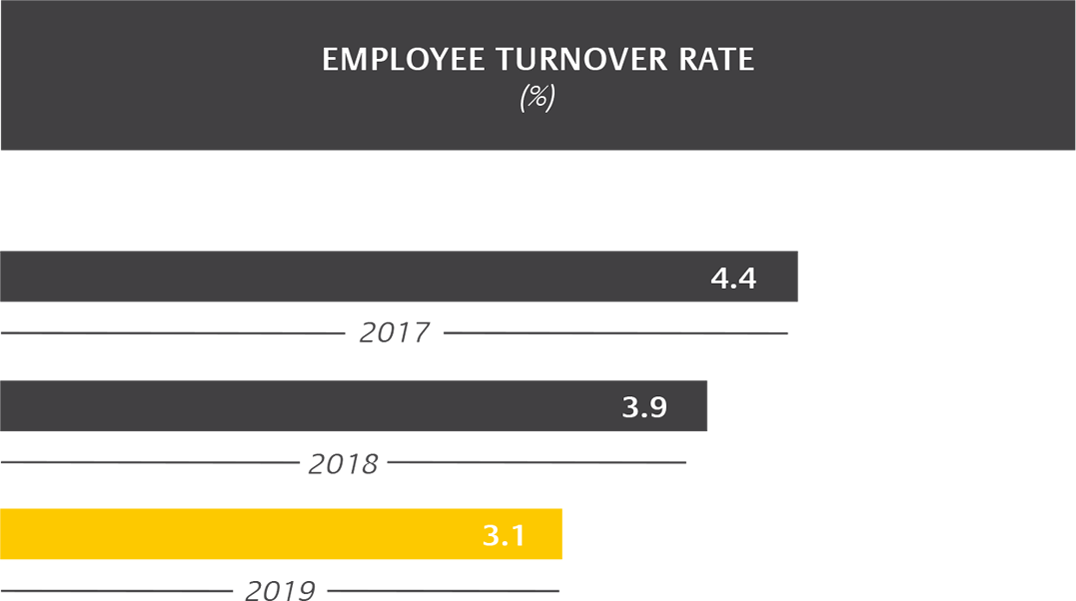 Employee participation in management differentiates us in the sector. We listen to our employees in periodic in-house meetings and annual goal-setting and performance evaluation meetings and we involve them in decision-making mechanisms, committees and projects. Our employees can also share their requests, suggestions and views through various channels, such as the intranet, IKON and other software, suggestion systems, feedback systems and surveys. Employees are informed about the overall outlook of the company through annual management meetings. With live broadcasts at the end of each quarter, the senior management team shares the developments about the company with all employees and answers their questions.

DIVERSITY

Diversity and inclusion are fundamental principles of our vision and values. We consider individual differences as we offer equal opportunities to our employees. We manage equally all human resources processes and do not discriminate employees on the basis of language, race, gender, political opinion, belief, religion, sect, age, physical disability or similar reasons. We have established an Ethics Committee to ensure all necessary actions that could be considered as discrimination or abuse are taken and to be reported by employees under the protection and safeguard of the principles of confidentiality. We share allfundamental principles under the Code of Conduct with employees.We support gender equality in the workplace as in all areas of life.
We support gender equality in the workplace as in all areas of life. Accordingly, we are among the signatories of the 2019 United Nations Women's Empowerment Principles.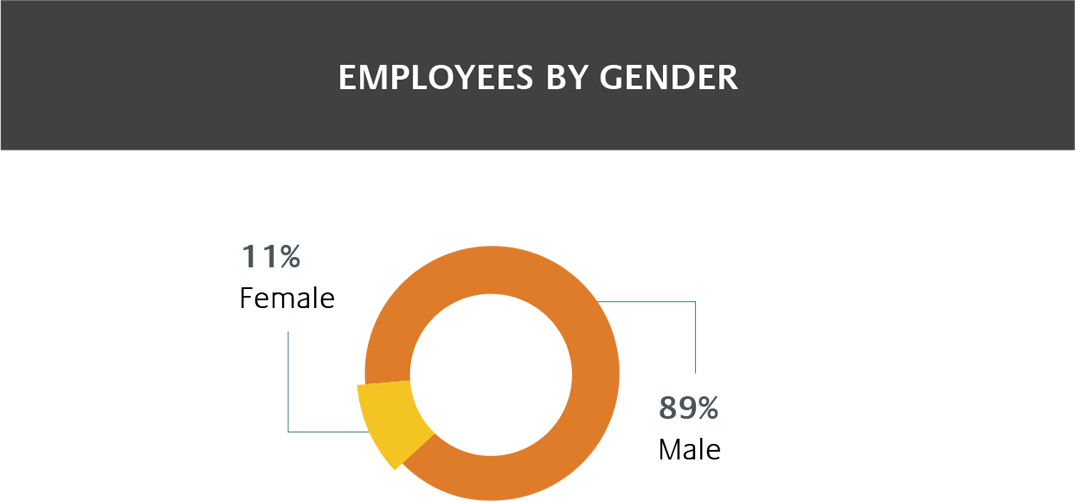 Additionally, in 2019, we ranked first in the category of Exemplary Energy Company at the Women Energizing Turkey Awards presented by the Ministry of Energy and Natural Resources, given to women who contribute to Turkey's national and domestic energy sector.
The ratio of women board members is 25%. 99% of male and female employees who were on maternal and parental leave returned to their jobs at the end of their leave.
At Enerjisa, our large and diverse employee profile consists of people from across four generations working side by side. In 2019, 70% of our recruits were under the age of 30. In addition, as of 2019, 47% of our employees have worked at Enerjisa Enerji for between 5 and 10 years. The programs we launch encourage creativity, cooperation, talent development and innovation within the company thanks to the diversity, equality and differences among employee groups of different age, sex and position.
In 2019, 70% of our recruits were under the age of 30.

LEADERSHIP DEVELOPMENT PROGRAMS

We aim to raise effective leaders with the programs lead our organization in the fastest and most effective way in dynamic world conditions.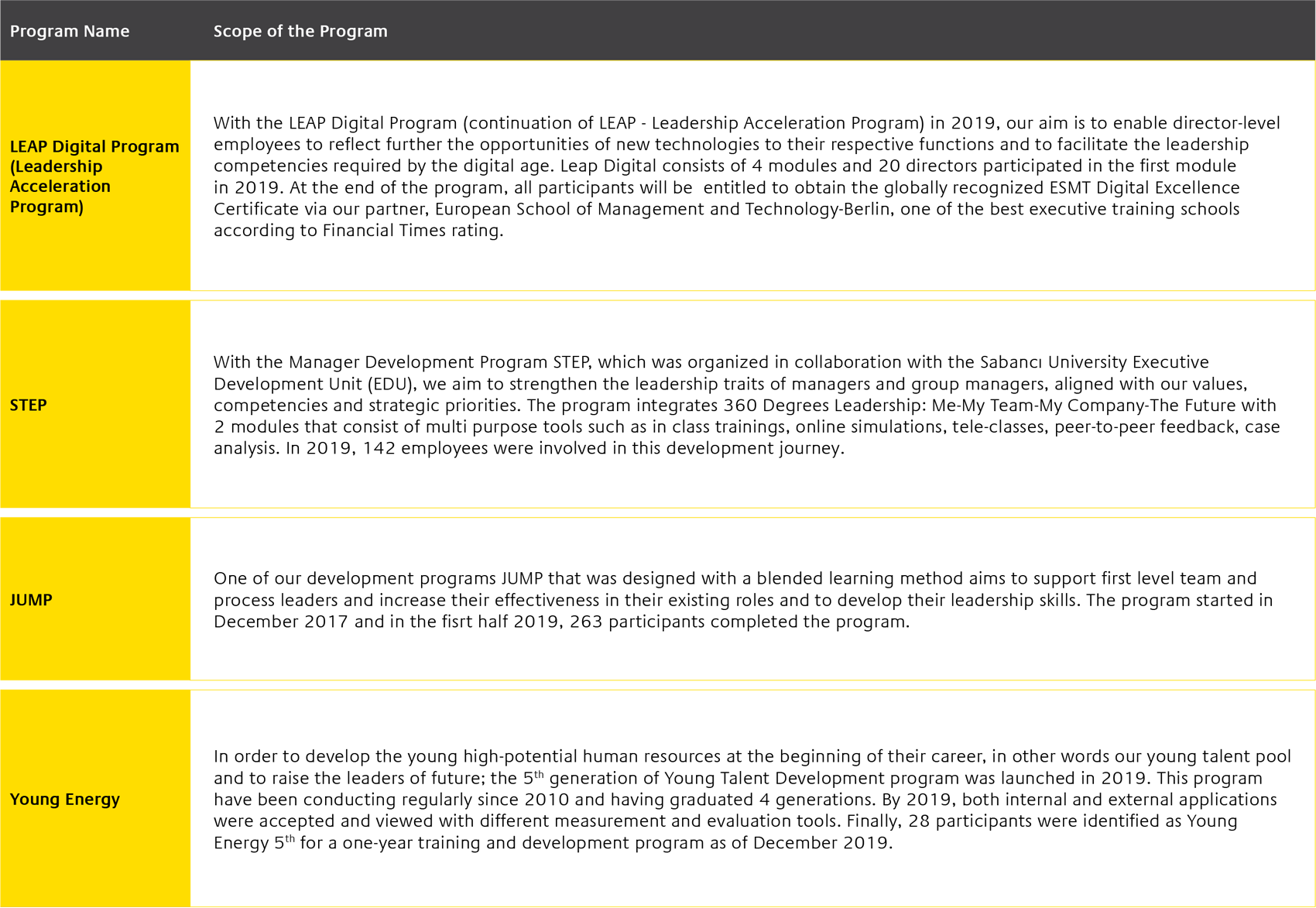 PERSONAL DEVELOPMENT PROGRAMS

We provide various essential training and development programs to help our employees reach their career goals and realize their potential.



PROFESSIONAL DEVELOPMENT PROGRAMS
We aim to train a competent and qualified workforce for our sector with our professional programs developed in line with the technical knowledge and skills that the energy sector requires.
Formed to energize and inspire the organization with the passion, perspective, potential and diversity of the young Enerjisa staff, the Young Advisory Board will serve our leadership team as an advisory body by participating in numerou projects and tasks developed to add value. In 2019, the Young Advisory Board project was awarded the Sabancı of the New Generation Award.

In 2019, Enerjisa senior leaders attended X-CELERATE high-level leadership development program organized by Sabancı Holding, X-Posure for mid-level leaders preparing for future roles and the TPX leadership development programs, a young talent program with high potential young employees.

Also in 2019, 16 people participated in Advanced Data Analytics Academy, which was established in collaboration with Sabancı Holding, Sabancı University and Sabancı EDU. All of our participants successfully graduated from the program and one of our participants graduated as one of the 3 most successful individuals.

In 2019, 9 employees participated in the leadership development program which is organized by the Yenibirlider Association in collaboration with Boğaziçi University. The program consists of training, mentoring, coaching and networking sessions.

With the introduction of the Enter project, our new generation talent management program, seniors and graduate students in electrical/electronics engineering received the opportunity to get a glimpse of the energy sector and the Enerjisa Distribution processes. During this one-year period, future engineers were assigned to different tracks (investment, customer and grid) and received the opportunity to experience and learn about the engineering processes involved in the energy distribution business. They were mentored by talent coaches and explored individual areas of interest. In 2019, 27 future engineers began their one-year industry journey in three regions. The Enter talent program was granted with the TOP100 TALENT First Prize in the Energy Sector by TOPTALENT in 2019.

The Our Customers training, which was designed for our field employees to improve their dialogue with both internal or external customers, aims to increase customer satisfaction, one of our key priorities. In 2019, 1,014 employees boosted their competence in communication, stress and conflict management thanks to the training.
To ensure that our employees understand the impact of the changes in the world and Turkey, technologies and trends on our way of doing business and to improve their way of doing business accordingly, we started organizing Trend Talks meetings in 2019. All employees can connect online from Enerjisa offices and interactively participate by asking questions. In 2019, 2,500 employees participated in four meetings held in different Enerjisa regions.
In 2019, overall we continued to support the professional and personal development of Enerjisa employees with technical and professional training programs, including master's programs, online foreign language courses and training courses on information security, competition law and ethics among others.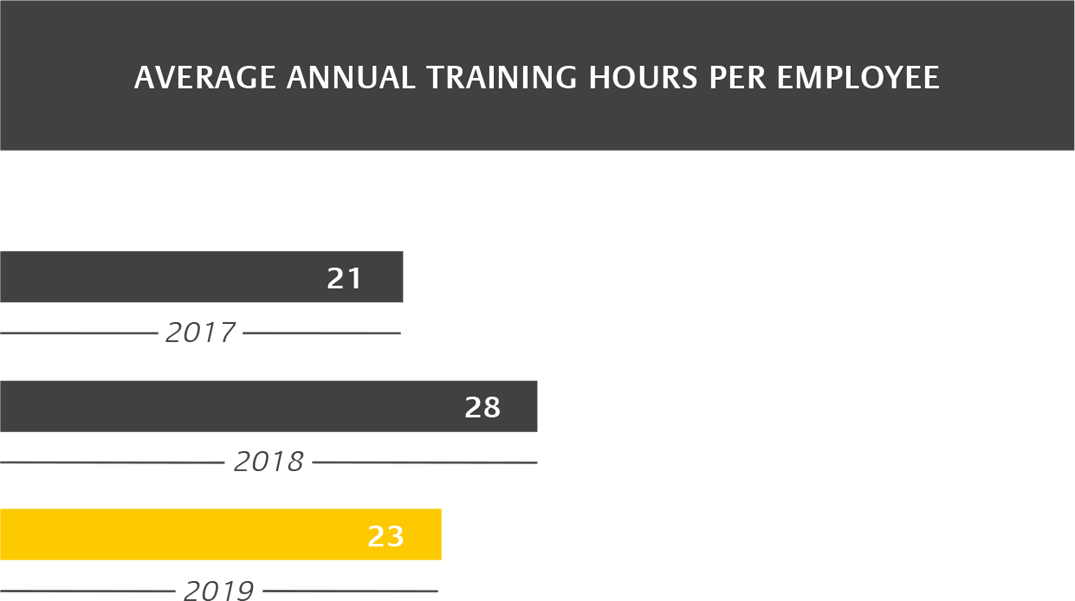 HIGH PERFORMANCE CULTURE
A strategic priority of our Company is the High Performance Culture based on continuous learning, agility, passion, determination and responsibility. We focused primarily on the Performance Management System in 2019 to support the sustainability of this culture.

We organized 26 workshops with approximately 200 managers and other higher-level executives to ensure that the goalsetting process is executed using the same approach across the Company. The workshops hosted by the function managers helped ensure that the Company's objectives were distributed across functions and individuals with the same approach, following the Company's strategic priorities.
During the year, we updated our performance process to support the High Performance Culture in line with the feedback provided and shared by our employees. Consisting of three fundamental stages: target-setting process, continuous performance management process and year-end evaluation process; our performance management system has become a structure that supports employees to review, update and enter targets throughout the year different from the previous years. Studies about new generation performance management system like more flexible, supporting performance dialog with receiving and giving instant feedback have been completed in 2019 and will be taken live in 2020. In order to support leadership team in terms performance management, performance coaching sessions have been held and will continue in 2020.
In addition to all these, we intend to internalize and preserve its High Performance Culture. Therefore, we strive to integrate our values, which were revised in 2019.
REWARDS AND BENEFITS

At Enerjisa, the rewards and benefits are based on the principles of fairness, transparency, competitiveness and rewarding high performance and are assessed in line with the wage market, overall sector and macroeconomic indicators. We aim to create a positive and competitive working environment by implementing a competitive and fair wage policy through regular market analyses, attracting large numbers of required talent to Enerjisa Enerji and earning current employees' loyalty.
With the various applications developed using the You Are Worth It platform, it is possible to appreciate the individual efforts and development of employees as well as their contribution to corporate development. This way, the Company can celebrate its employees' special and important days and foster appreciation. Within the scope of the grading review studies carried out in 2019, all the jobs are re-evaluated via globally used job evaluation methodology and grading structure had been reviewed and updated.
EMPLOYEE VOLUNTEERING
We support the voluntary participation of our employees in our social responsibility projects to contribute to the social welfare. These projects increase employee motivation and enhance our corporate perception. In 2019, we voluntarily took part in social responsibility projects with a total of 48 employees. We voluntarily support educational events and theater plays under the projects aimed at raising awareness on energy efficiency, energy saving and the environment in primary school students.