Innovation for the Energy of the Future
We operate in a dynamic energy sector that is transforming with megatrends and we have a clear vision of potential changes and value creation opportunities. We carry the responsibility of delivering a critical service for the society and we get prepared for the new world of energy. We focus on global technological developments, implementing new innovative ideas that add value to human life and finding customer-oriented solutions.
We are already preparing for today's fundamental changes by helping to shape regulation, exploring new business opportunities and leading the sector into the New Energy World.
In addition to our core business areas in electricity distribution and retail, we lead the sector with our efforts in energy efficiency and e-mobility solutions. Moreover, we closely follow opportunities in innovative business areas such as electric vehicle charging stations, electricity storage systems, smart home technologies and systems that help consumers produce their own electricity. We carry out our operations for customer solutions and distributed generation under Enerjisa Müşteri Çözümleri A.Ş.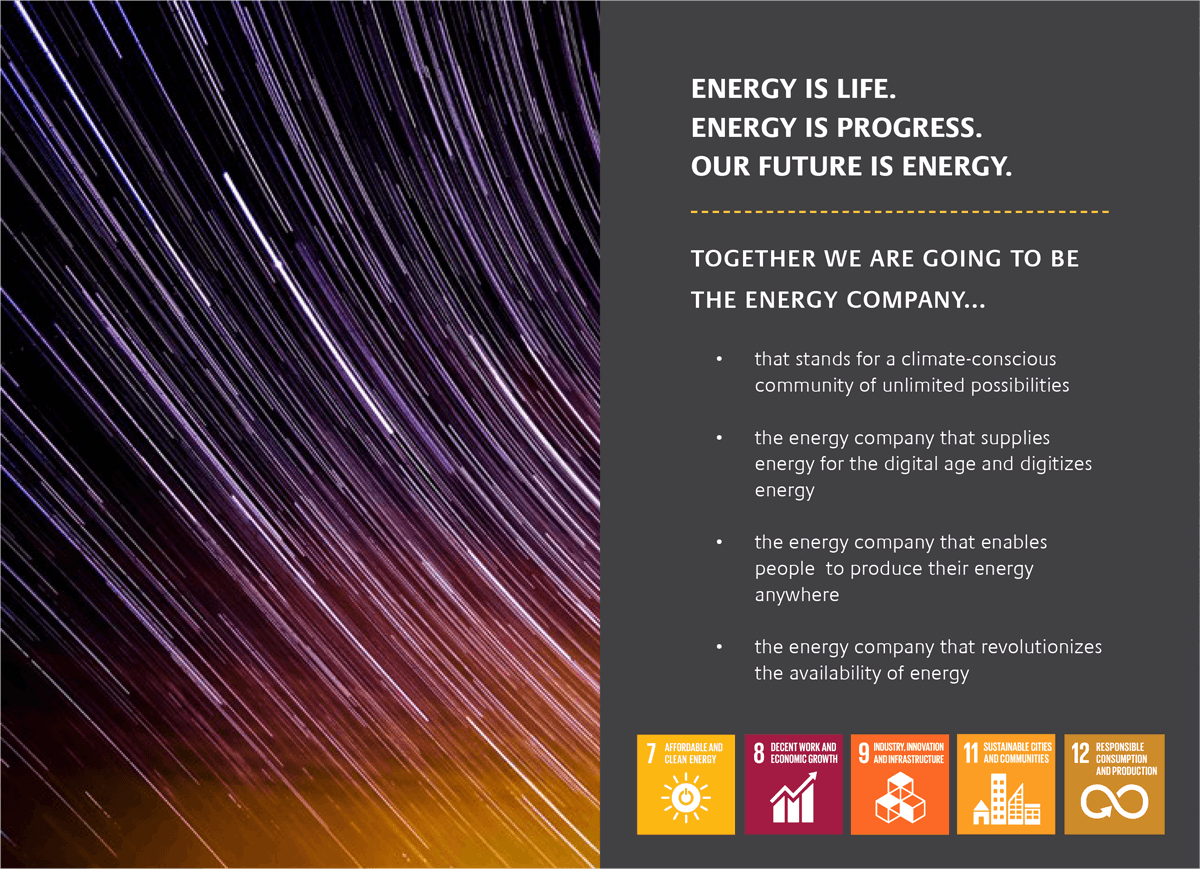 INNOVATION CULTURE

We allocated approximately TL 9.7 million for innovation in 2019.

We see innovation as a key strength to get ready for the Future Energy. We have an Innovation Department which fosters the innovation culture within the Company. The innovation team focuses on the trends in technology, development of products and services to improve business processes, whilst using big data and new digital solutions. Our innovation projects have been instrumental in the transformation of the sector. We contribute to and guide the existing and/or new legislation and studies by reporting the output of the projects to public institutions and regulatory authorities.
We ranked in the top five and reached the finals in the category of Innovation Strategy at InovaLIG, organized by the Turkish Exporters' Assembly.
Smart Box (Akıllı Kutu) project has been granted the Commercialization Potential Award in TÜSİAD's Digital Transformation in Industry Program.
We try to strengthen our innovation culture by means of both internal and external methods:
OPEN INNOVATION

We collaborate with start-ups, companies, technology development zones and universities in pursuit of open innovation:
Cooperation with Start-ups: We implement three different business models as we cooperate with start-ups to attract innovative ideas to Enerjisa Enerji:

1. Developing new products or services by making use of their in-depth knowledge about and agility in their expertise areas;

2. Offering customers the available products and services of start-ups by adding them to the Enerjisa'sportfolio and therefore, establishing a channel between the product and the consumer and;

3. Investing in start-ups.
Company Partnerships: We focus on offering innovative products and services to our individual and corporate customers and expediting our digitalization processes via new technologies. In line with this, we realized Enerjisa Partner Hub, an open platform for companies of all scales willing to partner and/or develop products with us. Institutions and individuals willing to cooperate with us in energy efficiency, artificial intelligence, smart devices (IoT), electric mobility and energy monitoring-automation can apply to the Enerjisa Partner Hub via our website.
University Collaborations: In 2019, we cooperated with METU, Sabancı University Inovent A.Ş., Bartın University, Özyeğin University, Gazi University, TOBB, Bilkent University, ITU Arı Teknokent, ITU Çekirdek and EIT InnoEnergy, which is funded by the European Union.
NAR CORPORATE INTRAPRENEURSHIP PROGRAM
It is our corporate intrapreneurship programme which has been held for 5 consecutive years. It enables collating innovative ideas from our employees for certain themes. Intrapreneurs receive practical and theoretical lean entrepreneurship training as part of the acceleration program. They are then included in the incubation process. In 2019, we received 249 ideas from employees, with record high interest in the programme. Certain projects aiming to develop products and services as part of the program had the opportunity to realize their solutions through the external partnerships and initiatives that they have established with the help of the Innovation Unit.
We are the sector leader with our R&D projects that are developed in line with considering operational efficiency, global international technological developments and Occupational Health and Safety.
We develop our R&D projects to achieve operational efficiency, keep pace with international technological developments and to improve occupational health and safety. Enerjisa Energy R&D Department carries out projects focused on developing new products, systems and design and primarily performs detailed analyses of the best global practices available for the distribution network, information and communication technologies and the relationship between these technologies. The R&D unit, which consists of 10 employees, focuses on the projects that improve the efficiency, reliability and continuity of electricity distribution. One of our primary objectives is to ensure the commercialization of the products and services we develop in these projects. These products and services are supported by local and foreign funding.
The projects are identified and selected by considering the strategic goals of the Company, internal needs and expectations and the latest updates on international R&D developments. The The selected projects in 2019 under Nar are as follows:
Gezgin: Electric scooter sharing platform supporting sharing economy and mobility habits of individuals by helping them reduce their carbon emissions.
Prosa: Preventative maintenance of meters via machine learning.
Safe Climbing: A warning system for possible leaks in lighting poles.
R&D work plays an important role in fostering the innovation culture within the Company. Additionally, since the outputs related to the projects are shared with EMRA, they also help shape future legislation.
We are the sector leader in terms of its R&D projects and the funding received. We serve at both the management and technical evaluation committee of the EUROGIA 2020 cluster, operating in the energy field under the umbrella ofinternational R&D support program EUREKA. The cluster is chaired by Enerjisa Enerji CEO Murat Pınar.
Additionally, we received 59 ideas via the Suggestion System, which we developed to include employees in the R&D processes. We implemented three of these ideas.

In 2019, we allocated approximately TL 5.3 million to R&D practices. R&D expenditures constitute 0.07% of the turnover.
In 2019, we received a total funding of TL 5,341,700 for our 9 projects supported by the EMRA R&D Fund.


E-MOBILITY

For a more sustainable life, we promote the widespread use of electric and energy-efficient vehicles, the transportation technologies of the future and build the infrastructure for electric vehicle charging stations. In this context, we closely follow opportunities in innovative business areas, such as electric vehicle charging stations, electricity storage systems, smart home technologies and systems that help consumers produce their own electricity.

We became the controlling shareholder of Elektrikli Araçlar Şarj Sistemleri A.Ş. (EŞarj) in 2018 by acquiring the majority of the Company's shares. In addition to our leadership in distribution and retail in the electricity sector, we aim to take on an innovative and pioneering role in the electric vehicles business and play an active role in the transformation of the sector.
ENERGY EFFICIENCY SOLUTIONS

We follow energy consumption trends and develop products accordingly to ensure that customers use energy efficiently. We share the financial and environmental impacts of efficiency projects.

We started the "Save Your Energy" movement to create awareness for energy efficiency, which has been instrumental for the sustainability of energy resources. Since 2016 we help to foster more energy saving and technology practices with this movement.

GREEN PRODUCTS

We serve our customers with different products and tariffs to fulfill their expectations and needs in the regulated market and closely follow developments in Turkey and the world.
Smart Box: We started the Smart Box project to raise user awareness on the consumption amounts of electrical devices, accurately forecast the demand that would affect electricity prices by using the data obtained from customers and to increase customer loyalty. Enerjisa customers can monitor their electricity consumption in real time via the Enerjisa Mobile App using the Smart Box IoT device installed in their homes. They can also use energy more efficiently by setting alerts and utilizing the insights provided by the Smart Box smart algorithms. As of today, we have installed the Smart Box for more than 60 users.
Personal Energy Administration Kiosk Application (PEAKApp): With the PEAKApp mobile app solution, we aim to correctly estimate the demand that would affect electricity prices and increase user awareness of how much electricity devices consume. The application was the first Enerjisa project funded by the European Union Horizon 2020 program to receive the TÜBİTAK Achievement Award and Austrian Energy Globe Jury Special Award. With the mobile app developed as part of the project, users can actively track their consumption and compare it against past consumption levels and experience competitive gameplay by earning points in line with their energy-saving objectives and competing with friends. Furthermore, in markets with variable electricity prices, users are informed about the hours of low-cost energy and can receive discounts with the points they earn. The application was tested by pilot groups in Austria, Estonia, Latvia and Sweden and projects results was reported to the European Commission.
DISTRIBUTED ENERGY
The first steps in addressing energy and climate crisis, both in our country and across the world, are ensuring energy efficiency and using renewable energy sources. We work towards adopting the decentralized, distributed energy model asan alternative to the central system energy model. Distributed energy helps to reduce losses and costs in electricity production, transmission and distribution; ensure supply security; lower foreign dependency; decrease greenhouse gas emissions; promote renewable energy sources and ensure regional development.