EŞARJ STATIONS AT CARREFOURSA
Eşarj, having the leading electric charging station network in Turkey, and CarrefourSA collaborated to build Eşarj stations in line with their sustainability goals. As part of the collaboration, charging stations were built to the parking areas of three CarrefourSA markets in Istanbul. Charging stations located within the parking areas of Istinye CarrefourSA Hyper, Anadolu Hisarı CarrefourSA Gourmet and Zekeriyaköy CarrefourSA Gourmet markets are available for public use and will serve the charging requirements of CarrefourSA customers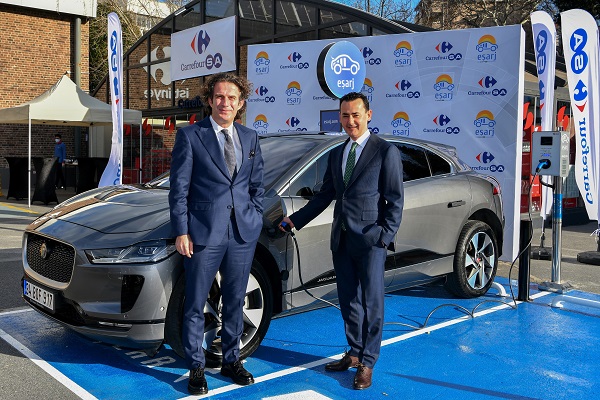 Having taken the first step to realize an investment abroad recently and established stations in Sweden, Eşarj also expands its charging station network in Turkey. Providing high-quality and uninterrupted service besides sustainable solutions to its customers with its innovative perspective, Eşarj has built charging stations within the parking areas of Istinye CarrefourSA Hyper, Anadolu Hisarı
CarrefourSA
Gourmet and Zekeriyaköy CarrefourSA Gourmet markets.
With this collaboration, Enerjisa Enerji and CarrefourSA, the two largest brands of
Sabancı Holding
, join forces in the significance they attach and contributions they have in sustainability.
Enerjisa Enerji
and
CarrefourSA
continue to provide uninterrupted and fast solutions to their customers. Providing trouble-free services to its customers and offering solutions in ecologic development, Enerjisa Enerji also eases the lives of CarrefourSA visitors with the charging stations. The new charging stations built within the parking areas of CarrefourSA markets have AC 22 kVA single output feature.
Murat Pınar, Chairman of the Board of Directors of Eşarj and CEO of Enerjisa Enerji, stated
; "We provide sustainability- and technology-oriented products as part of "Energy of My Business" project initiated in September. Together with Eşarj, e-mobility issue is also an essential part of our product portfolio. At Enerjisa Enerji, we take responsibility at this point, aim to create long-term value for the community and to act with a focus on innovation and environment while providing electricity service, one of the indispensable needs in our life."
Kutay Kartallıoğlu, General Manager of CarrefourSA, stated;
"We attach great significance to take accurate steps to protect the environment and minimise the environmental impacts in line with the Sabancı of New Generation vision. Today, we observe that many customers prefer electric vehicles. We, like many of our customers, would like to do the best for the environment. Hence, we support driving new generation cars and build charging stations to our parking areas. Today, we have 3 Eşarj stations; but we will increase the number of Eşarj stations in the following period. At CarrefourSA, we will continue taking accurate steps with our faith in a sustainable future, and contributing to the sensitivity of our customers for the environment."
About CarrefourSA:

CarrefourSA, a subsidiary of Sabancı Holding and Carrefour Group, offers over 60,000 fresh and high-quality products to its more than 500,000 customers in a reliable way with the "Accurate if at CarrefourSA" mentality through its 689 markets operated in 52 cities, 12 warehouses and online market on Carrefoursa.com in line with its "New Generation Market" vision with its 11,000 employees.
About Enerjisa Enerji :

About Eşarj :

Eşarj Elektrikli Araçlar Şarj Sistemleri A.Ş modifies the mobility concept with its leading position in the electric vehicles sector, which is a rapidly developing industry.
The goal of Eşarj, of which majority of its shares was acquired by Enerjisa Enerji A.Ş. in April 2018, is to offer charging solutions to all of its customers throughout Turkey by creating a national station network and operation system composed of charging units.