Material Issues
We revised last year's materiality analysis and assessed the issues we could manage together. We redefined the scopes of our two extremely important issues,
Uninterrupted Energy
and
Risk Management and Security in Energy Supply
and merged them under one heading to manage them in the most efficient manner. Additionally, we brought
Stakeholder Management
and
Collaboration
under the heading of Stakeholder Management.
WHAT WE DID IN 2018?
We identified material areas that will guide our sustainability investments through a participatory stakeholder analysis and in accordance with the AA1000 AccountAbility Stakeholder Engagement Standard. We collected both the expectations of Enerjisa employees and the insights of our external stakeholders, including international organizations, financial institutions, affiliates, business partners and public institutions. We received responses from 51% of stakeholders. We also assessed the external trends of the energy and distribution/ retail sector and considered the global risks outlined by the World Economic Forum, insights that will define the future of the electricity industry, industry-specific material issues defined by Sustainability Accounting Standards Board (SASB) and Sustainable Development Goals.
While evaluating the priority of each area for Enerjisa, we addressed the strategy and targets of Enerjisa Enerji together with the strategies of its main shareholders, Sabancı Holding and E.ON and asked the opinions of the senior management, consisting of Enerjisa Enerji A.Ş. Leadership Team members. In addition, we used four factor impact analysis methodology of SASB. We evaluated significant risks and opportunities concerning finance, law, innovation and competition.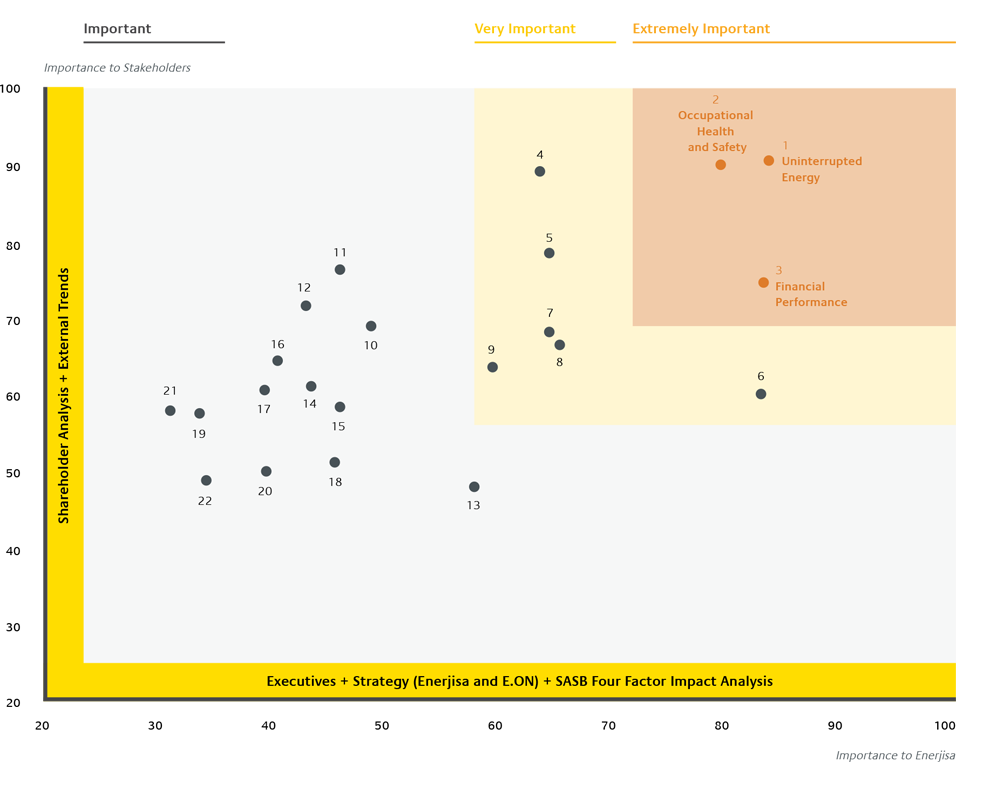 Uninterrupted Energy
Occupational Health and Safety
Financial Performance
Accessible Energy
Smart Technologies
Customer Satisfaction and Customer Orientation
Mobile Solutions
Talent Management
Stakeholder Management
Electricity Theft & Loss
Climate Change and Carbon Management
Ethics and Transparency
Data Security
Countering Bribery and Corruption
Supporting Local Development
Employee and Human Rights
Waste Management
Employee Satisfaction and Loyalty
Water Management
Transparency in Energy Pricing
Gender Equality
Biodiversity