Integrated Management and Sustainability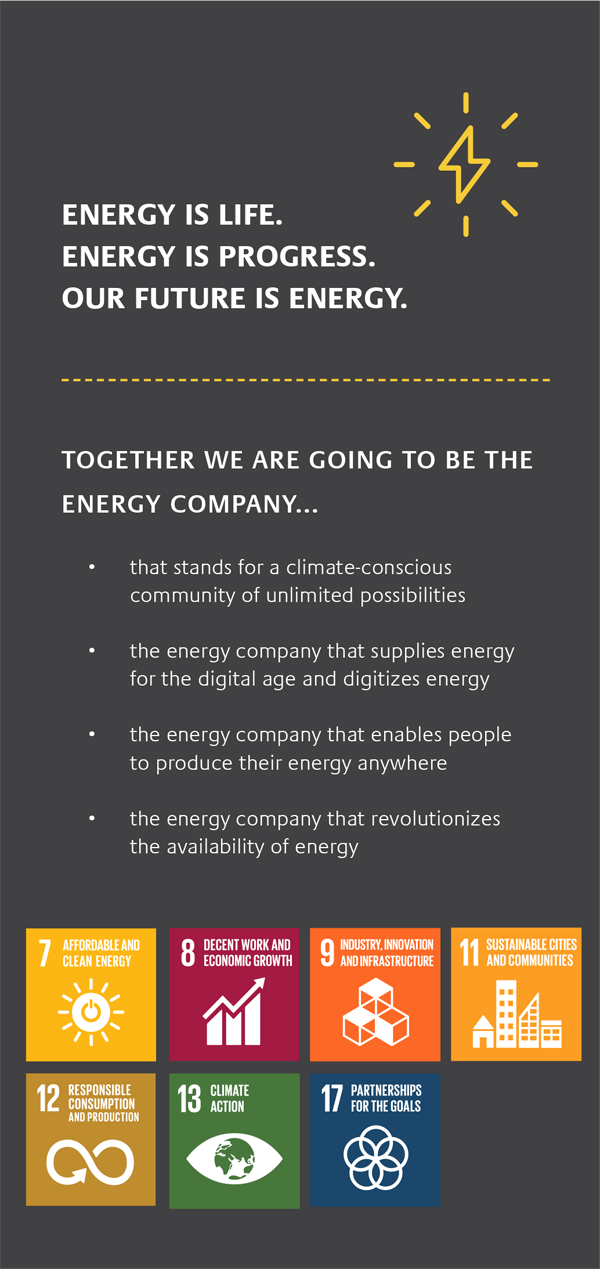 Following the successful public offering in 2018, we havefocused on corporate sustainability to develop a strategic and holistic approach regarding economic, environmental and social factors to create long-term value. We emphasize sustainability as an important aspect of our equity story and a critical tool for an effective strategic management. While integrating sustainability in our processes, we keep complying with global environmental and social norms, as well as investing for social awareness.

We carry the responsibility of delivering a critical service for the society and we get prepared for the new world of energy.
In 2019, we have been included both in the BIST Sustainability Index and the BIST Corporate Governance Index. With our vision to be become the leading energy company with our Environmental, Social and Governance (ESG) performance, we adopted our sustainability strategy to better manage these metrics with an integrated approach.

DEVELOPMENT OF SUSTAINABILITY STRATEGY
Our key businesses being Distribution and Retail are the key enablers for the new energy world. The backbone of the new energy world will be the energy grids, which no longer will be one-way networks, but instead act as smart interconnectors of complex energy flows. The retail business is the heart of the new energy world and we focus on customers solutions which is the forerunner of new developments such as e-mobility and cogenerated local power plants.

With these convictions in mind, our approach to sustainability goes far beyond environmental and human rights protection. We believe that in order to successfully manage future challenges, our sustainability strategy needs to be fully integrated in our business strategy. For us this means that all of our sustainability efforts are channeled towards reaching our strategic business targets and similarly that all of our business initiatives are in line with our sustainability efforts.

As the first step of the strategy development, we conducted a benchmark analysis with a peer group of world's foremost sector leaders that embrace the idea of sustainability and focus on improving their performance. In this context, we compared our sustainability maturity with the peer group under the following sections:
Sustainability Strategy: It assesses the scope of sustainability strategy, materiality process and the integration of stakeholders to this process, SMART targets and risk management which is required to integrate sustainability into business strategy.
Sustainability Governance: It covers topics such as sustainability structure, leadership of Board and executives on sustainability issues and responsibilities of different departments related to sustainability and the scope of Code of Conduct and compliance systems.
Stakeholder Engagement: It evaluates communication with stakeholders, membership and involvement in multi stakeholder international initiatives, stakeholder engagement level and method in decision making mechanisms.
Reporting and Communication: It assesses sustainability reporting, disclosure of stakeholder expectations and opinions.
Business Alignment: It covers the existence of all necessary policies and standards in order to achieve strategic targets, the relation between investments and the community investment programs with business strategy.
Performance: It evaluates shared traceable, measurable and balanced company performance on material issue and how it reflects sustainability to its value chain.
Once the benchmark analysis has been completed, we have identified a roadmap for the sustainability strategy for all key areas of Environmental, Social and Governance (ESG) reporting taking into consideration of international standards, requirement of global indices, investors' expectations, as well as the best practices from the peer benchmark companies. Following that we have organized internal workshops with all relevant business units of the Company and discussed and further developed the roadmap.

At the core of the sustainability strategy, we have placed the equity story of the Company and we have grouped our strategic priorities in three main areas; A Responsible Public Service, A Role Model within the Sector, Preparing for the New Energy World. Ultimately this will serve us to be able to operate as an environmentally responsible energy company that digitalizes the energy, democratizes energy production and accomplishes groundbreaking achievements in providing our stakeholders access to the energy in the digital era.

A Responsible Public Service

We are aware that electrical energy is a basic need, just like air and water. As such, we take responsibility to ensure all segments of society have equal welfare and healthy living standards. Responsible Public Service lies at the core of this Company, whose main operations are electricity distribution and retail sales. To reach this end efficiently, we shape our business model around our customers, we effectively manage all our stakeholders and try to create value with our social responsibility approach.

A Role Model within the Sector

We aim to develop sector-leading practices and perform our operations with an exemplary attitude. Our priorities include providing our employees with a safe working environment, monitoring the environmental effects of our operations and maintaining highest standards for corporate governance and risk management. Therefore, we try to ensure that our investments and projects within the scope of environment and occupational safety create a common long-term value.

Preparing for the New Energy World

We work to stay competitive, stable and sustainable while providing energy supply safety and quality. We closely observe the changes and trends occurring in the highly adaptive energy world and develop our diverse, young and equipped human resources, as well as our strong and reliable brand, to successfully keep up with the changes in our sector. We also closely monitor technological developments and implement innovative ideas that bring value to people.





SUSTAINABILITY GOVERNANCE STRUCTURE

To manage sustainability strategically we established an organizational structure comprising of Board of Directors, Sustainability Committee and Sustainability Working Group.

Board of Directors
Sustainability Committee
EXECUTIVE LEADERSHIP TEAM

Sustainability Working Group
The Enerjisa Enerji Board of Directors defines sustainability strategy and has overall responsibility for sustainability performance. The Sustainability Committee comprising of Executive Leadership Team, oversees the sustainability practices across the Company and informs the Board of Directors about important sustainability initiatives, developments and key performance indicators (KPI) on a quarterly basis.

Sustainability Working Group is led by the Investor Relations department and comprises representatives from all key business functions and units. Investor Relations department leads the sustainability efforts of the Company, coordinates the planning and implementation of the sustainability initiatives, monitors progress, collects and reports sustainability data, conducts materiality analysis and ensures compliance with sustainability indexes' reporting requirements. In this respect, Investor Relations department sets regular Sustainability Working Group meetings throughout the year in line with all of these efforts. In 2019 Sustainability Working Group has met 4 times with the following key agenda items:
1. Internal Sustainability Reporting Methodology and Integration of Sustainability Priorities with Corporate Strategy
2. New Environmental Policy and Environmental Management System Introduction
3. Sustainability Strategy Benchmark Analysis