Eşarj
What is an Electric Vehicle Charging Station?
Electric vehicle charging station is an infrastructure that provides electrical energy for charging electric vehicles. Electric vehicle owners need electric charging (Eşarj) units, where they can fill the batteries of their vehicles. Electric charging stations, or 'Eşarj' units, can be installed in homes for individual use. Eşarj stations can also be used publicly, and can be installed in shopping malls, gas stations etc.
Why Should I Use Electric Vehicle Charging Station (Eşarj)?
The most promising solution to prevent global climate change is to limit fossil fuel consumption. The whole world is mobilized to prevent the climate crisis and environmental pollution caused by the burning of fossil fuels. Therefore, electric and hybrid vehicles are becoming increasingly widespread. Electric vehicles are also becoming increasingly popular because of their low maintenance costs and for their high efficiency.

Just as an internal-combustion car needs a gas station, electric vehicles need charging stations. In order for an electric vehicle to travel a distance of 150 kilometres, it must be charged at AC stations for 2-6 hours, depending on the brand and model of the electric vehicle. However, with DC fast charging stations, this period can be shortened up to 20-30 minutes. Fast charging stations provide the opportunity to shorten the necessary charging time. The charging time of electric vehicles varies according to the battery capacity of the vehicle, and the AC or DC charging station's power.
What is Electric Vehicle Charging Station Units?
Electric vehicle charging stations, or Eşarj units, have different types of charging units. Two different grid circuits are used with charging stations: Alternating current (AC) and direct current (DC).

Alternating current (AC): Although AC stations, are the cheapest way to charge an electric vehicle, the charging process takes a relatively long time. In AC type charging stations, the alternating current from the grid circuit is converted to linear flow with the help of a converter on the vehicle, and is transmitted to the battery. In AC networks, the charging speed varies depending on the output power of the station and the capacity of the converter in the vehicle.

Direct Current (DC): DC stations, also known as high-speed charging, can fully charge a vehicle in 1-4 hours. This time varies according to the vehicle's battery capacity and the power of the DC unit. The alternating current in the grid circuit is converted to direct current on the station and transmitted to the vehicle battery.
E-Mobility by Eşarj
One of the most important factors enabling E-Mobility is that electric vehicles can be charged quickly, and comfortably. With our Eşarj service, we create solutions for our customers, from the moment they purchase their electric vehicle.
By visiting your home or workplace, we check the compatibility of your technical infrastructure with different types of charging stations and report them in detail.
Considering your private usage, we offer our recommendations for the most appropriate power, infrastructure, distance and security measures for the charging stations to be offered by the brands.
We professionally install the charging station you have approved at your home or workplace.
With the privilege of Enerjisa, we provide access rights to Turkey's largest charging station network of almost 400 Eşarj stations.
We provide you with a private charging station as well as the option of charging in public areas, making you feel comfortable about the range.
At the same time, providing customers with access to premium locations by Eşarj, which is the fastest network of Turkey, we make it possible for you to complete the charging process within the shortest time.
We can also carry out sales for corporate lease vehicle fleets, including the cost within the monthly rental price.
Map of Electric Vehicle Charging Stations in Turkey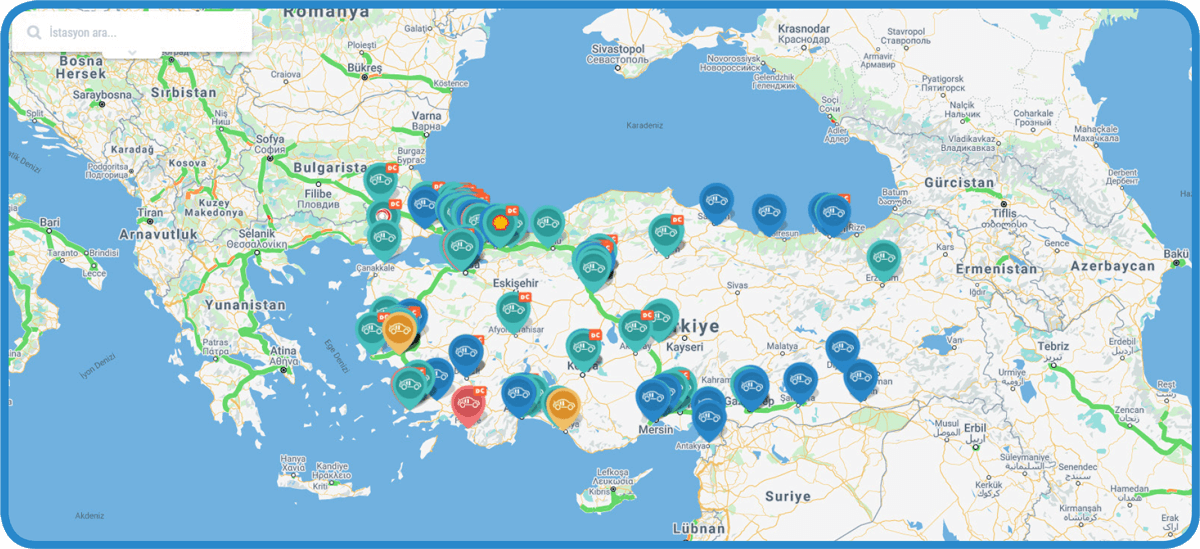 What is an I-REC Certificate?
One of the most debated issues regarding the environmental impact of electric vehicles is the source of electricity. Enerjisa provides I-REC certification for energy consumed at all public electric vehicle charging stations. IREC (International Renewable Energy Certificate) is an international certificate that documents the use of energy generated in wind and solar power plants. The electrical energy consumed in Eşarj stations is supplied by the energy generated at wind and solar power plants that are registered in the IREC Turkey program. Thanks to the IREC certification system, zero carbon emission from source-to-wheel is possible. We provide I-REC certification at all of our public Eşarj stations in order to fight the climate crisis. For Eşarj stations that are installed for personal use, we also offer I-REC certificates upon the request of our customers.
How to Build Electric Charging (Eşarj) Stations?
3 Reasons to Build Electrical Charging (Eşarj) Stations.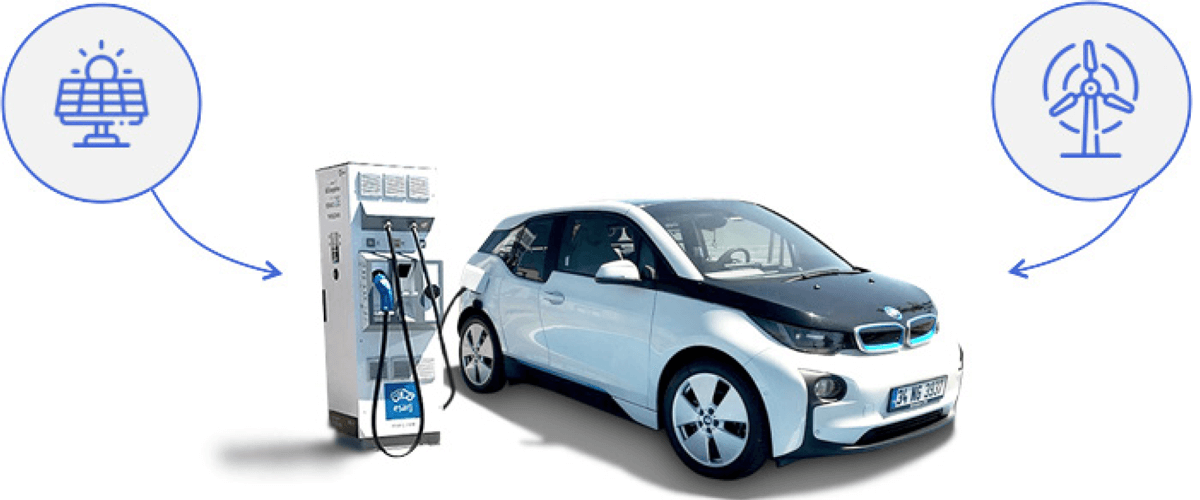 1. Environmentally Friendly
Eşarj stations and electric vehicles are an investment in a sustainable future. They reduce dependence on fossil fuels and help prevent environmental pollution. Eşarj stations document the source of energy with the I-REC certificate system. Thus, Eşarj stations contribute to preventing global warming and climate crisis.
2. Efficiency
Eşarj stations use energy in an efficient way and minimize loss of energy.
3. Low Fuel and Maintenance Cost
You can economize on fuel and maintenance costs with Eşarj stations. Eşarj stations invest in a sustainable future and provide continuous savings. Considering that a passenger car travels an average of 30-40 thousand km annually, the use of electric vehicles can save up to 70-80% in fuel consumption.
Esarj Success Story
Volvo Car Turkey & Eşarj
Volvo Car Turkey opted for Eşarj for the charging requirements of their electric car-owning customers.
Carrefoursa & Eşarj
Enerjisa Enerji and CarrefourSA has built a significant partnership in line with the sustainability goals. Eşarj stations, built in the parking areas of three CarrefourSA stores in Istanbul, were put into operation as part of the first phase.
Frequently Asked Questions About Electric Vehicle Charging (Eşarj) Station
1- Electricity is also a fossil fuel-based energy source. Are electric vehicles really cleaner?
Yes. Electric vehicles have less carbon footprint in terms of both CO2 and nitrous oxide, carbon monoxide. They also contribute to air quality in populous cities. Moreover, as electricity generation shifts towards cleaner generation technologies and renewable energy sources, the carbon footprint of an electrical vehicle improves.
2- How much can I save by using electricity instead of fuel?
Considering that a passenger car travels an average of 30-40 thousand km per year, the use of electric vehicles can save more than 10,000 TL per year in typical energy costs. When electric vehicles are charged at home, electricity costs less than the equivalent price of fuel. Electric vehicles can save up to 70-80% in fuel consumption.
3- Do I need special infrastructure in my house to charge the EA?
No, all electric vehicles purchased come with a standard plug with which you can charge at a power outlet at home. Many electric vehicle owners also buy a domestic type Eşarj unit to charge their vehicles faster than a 230 V power outlet.
4- What is the difference between AC and DC charging?
An AC (Alternating Current) charger supplies energy to a vehicle's charger and thus charges the battery. Faster charging is possible via DC (Direct Current) technology. The DC fast charging station converts the AC supply of the grid circuit to direct current and DC technology directly powers the vehicle battery.
5- Where are DC fast chargers usually located?
Fast chargers are built in 24-hour open areas such as road-side businesses, and gas stations. They are also frequently used in commercial areas such as shopping malls, restaurants, campuses and city parking areas. The number of DC charging stations in Turkey is increasing rapidly. The E-mobility sector continues to develop with faster, smarter, and more autonomous systems.
6- Where can I charge my car?
You can charge it at home, at work or in public places. In Turkey, there are about 600 public charging point in the cities and on motorways.
7- Where are the charging stations?
Most metropolitan cities have an extensive charging infrastructure. There are fast charging units especially on the highways connecting the western provinces of Turkey.
8- How can I charge my car?
You can charge your vehicle by using your own charging cable at AC charging stations and by using the charging cables attached to units at DC charging stations.
9- Is a special infrastructure required for charging at home?
When you decide to buy your vehicle, a technical team contacts you to determine which power unit your home is suitable for installation. In addition, electric vehicles come with a standard plug, suitable to charge using the outlets in your house.
10- How long will I charge my car at home?
The charging time of electric vehicles varies according to the battery capacity of the vehicle, AC and DC unit's charging power and the power of the domestic type charging station.
11- How long will I charge my car outdoors?
The charging time of electric vehicles varies according to the battery capacity of the vehicle and its AC and DC charging power, and the power of the station you are connected to.
12- How much will I pay for 1 charge?
It depends on the charging time. You can access the current Eşarj tariff, which is determined according to different station powers, from the
link
.
13- How can I be a member of Eşarj?
You can start your membership and request an Eşarj card by creating a member account via the Eşarj mobile application or website.
For detailed information, you can contact the Eşarj Call Center number:
444 83 03
14- How Can I charge my car?
You have your Eşarj card scanned to start and stop charging at Eşarj stations.
15- How long does the battery last?
Current studies on the lifetime of Lithium-Ion batteries used in electric vehicles estimate between 15-20 years and up to approximately 200 thousand kilometres. Electric vehicle brands offer warranties for Iion batteries that have different durations and ranges.
16- What is the range of the vehicle when the battery is fully charged?
The distance that the electrical vehicle brands and models in the current Turkish market can cover with an 80% full battery, varies between 150 - 600 km depending on the brand and the model.
17- What if I am stranded on the road?
Electric vehicle brands have roadside assistance. In addition, if you have a problem with charging, you can call the Eşarj Call center to request immediate assistance.
For detailed information, you can contact the Eşarj Call Center number:
444 83 03
Hemen Başvur
Talebiniz alınmıştır. En kısa sürede sizinle iletişime geçeceğiz.
Teşekkürler.